This short guide aims to give you a rundown of how to integrate your Fireblocks account with Cryptio.
Connect Fireblocks API to Cryptio in a few simple steps:
💡 You must be logged in to Fireblocks to view the documentation. Please note that Cryptio users do not need to generate a CSR file, as stated in the Fireblocks documentation. Instead, use the Cryptio CSR file, click here to download the Cryptio CSR file.
Once you have obtained the Fireblocks API key, click on the Integrations tab in the side navigation bar.

Then select the button to Connect within the Fireblocks business integration.

Enter the Fireblocks API key and API secret that you previously obtained. This will import your whitelisted addresses in contacts, and the vaults will be ready to be imported.
💡 Cryptio users can use the merge feature when importing Fireblocks contact that has conflicting addresses under different contact names that already exists in Cryptio.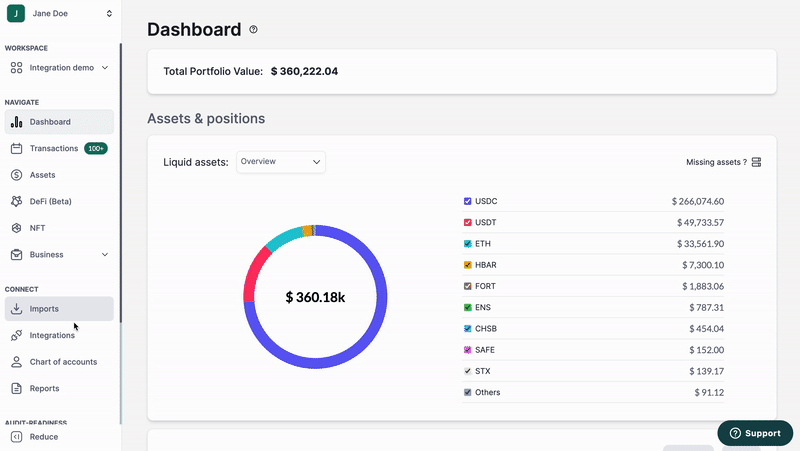 Import Fireblocks data into Cryptio in a few simple steps:
Once you have connected the Fireblocks API, select the Imports tab in the side navigation bar and select the + Import button.

Press the Custody key.

Select Fireblocks as your chosen import.

Then choose the vaults that you would want to import. Once imported, you will be able to view the vaults under sources in the Imports tab.

Click on the vault that you would want to explore and you will be directed to the Transaction page to view your past transactions for the selected source.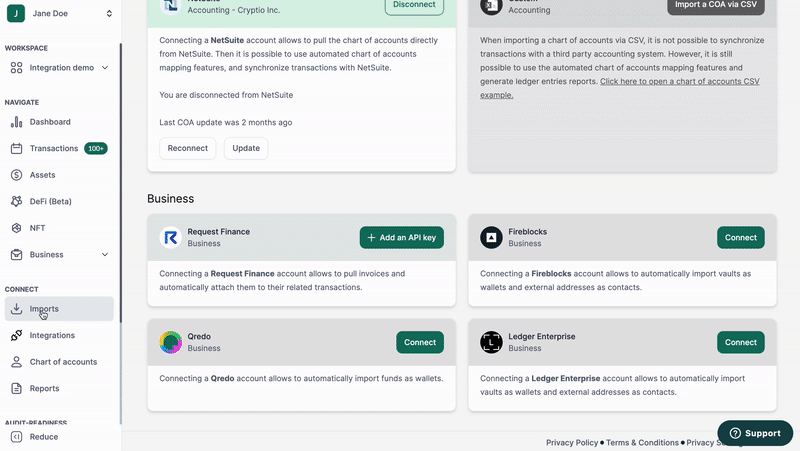 ---
If you have any more questions or need help, please don't hesitate to contact our support team.