Cryptio is a lot more than just an accounting tool, we are building the central data collection point for all your crypto data. Having the right team members accessing the right data at the right time can drive strategic decision-making within your organization.

At Cryptio, we understand that collaboration is essential! Here are some examples of roles or profiles that would benefit from having access to your Cryptio workspace:

Internal profiles that benefit from having access to Cryptio:
Chief Executive Officer

Chief Financial Officer

Chief Operations Officer

Director of Finance / Accounting

Head of Finance / Accounting

Internal Controller
External profiles that benefit from having access to Cryptio:
Accounting Firm
Bookkeeper
Certified Public Accountant (CPA)
Auditor
Once you have determined who you would like to include in your Workspace, it's time to send them invitations. Follow these simple steps to do this:
Steps to invite new collaborators:
Open Cryptio and navigate to Manage Workspaces

(

shortcut

).

Click on your workspace

Click on

Invite a user.

Input their email address & role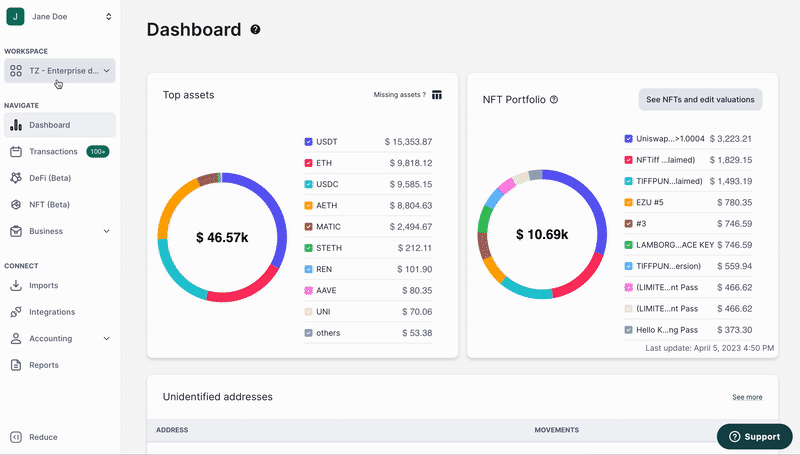 A workspace has four roles: Administrator, Accountant, Bookkeeper, and Reporter. These different roles have varying degrees of user permissions for the workspace. Broadly speaking, the main differences are outlined below, though please refer to the table at the end of this guide for a full list of permissions per role:
As the Administrator, you have no limitations on the features and tasks you can perform across the workspace. The owner of a workspace is automatically an Administrator.
As an Accountant, you can do everything, from data entry to generating reports, but you cannot manage workspace administration.
A Bookkeeper can perform similar functions to the accountant role but cannot take some actions, such as creating or deleting generated reports.
Lastly, a Reporter will only have view-only access, in addition to being able to download reports, which is frequently used to give access to an auditor.
Permissions
Administrator
Accountant
Bookkeeper
Reporter
Labeling and contact creation
Can read labels

✅

✅

✅

✅

Can create, modify, and remove labels

✅

✅

✅

Can read contacts

✅

✅

✅

✅

Can create, modify, and remove contacts

✅

✅

✅

Financial management
Can read balance

✅

✅

✅

✅

Can read history

✅

✅

✅

✅

Can read transaction

✅

✅

✅

✅

Can modify and remove transactions

✅

✅

✅

Wallets and invoicing
Can see wallet sources

✅

✅

✅

✅

Can create, modify, and remove wallet

✅

✅

Can read and download invoice

✅

✅

✅

Can create, modify, and remove invoice

✅

✅

COA and mapping
Can read chart of accounts

✅

✅

✅

✅

Can create, modify, and remove chart of accounts

✅

✅

Can read chart of accounts mapping

✅

✅

✅

✅

Can create, modify, and remove chart of accounts mapping

✅

✅

Reporting

Can read and download report

✅

✅

✅

✅

Can create, modify, and remove reports

✅

✅

✅

Accounting and Business Integrations
Can connect and disconnect accounting integration

✅

✅

Can sync transaction to accounting integration

✅

✅

✅

Can update accounting integration connection status

✅

✅

✅

Can connect to, disconnect from, and update Request Network

✅

✅

Workspace Administration
Can modify and remove workspace

✅

Can invite, modify, and remove workspace user

✅

Can create, modify, and remove workspace role

✅

Can peg stablecoins 1:1 with USD

✅

Can modify workspace currency

✅

✅