QuickBooks is a robust accounting software solution designed to cater to businesses of all sizes. One of its many features is the ability to use Classes, which allows businesses to track their income, expenses, and net income by different segments or departments. This feature is especially useful for businesses that have multiple departments, locations, or even different business lines.

What are Classes in QuickBooks?
In QuickBooks, Classes enable businesses to organize transactions by segments, such as departments, project teams, or any other distinct division of the company. It's an efficient method to pinpoint where finances are channeled and which sectors are the most profitable.
⚠️ Classes data point is only available for the Plus version of QuickBooks users. You might need to upgrade your plan directly in Quickbooks to be able to use this feature. The following instructions are summarised from the Quickbooks article.
Step 1: Activate Class Tracking
Navigate to Settings:

Click on the Settings ⚙ icon.
Choose "Account and Settings."

Adjust Advanced Settings:

Click on the "Advanced" option.
Access the "Categories" section to edit.

Enable Class Tracking:

Check the "Track classes" box.
Optionally, for enhanced tracking, check the "Warn me when a transaction isn't assigned a class" box. This ensures you're alerted when a transaction isn't categorized, enhancing the accuracy of your reports.

Determine Class Assignment Method:

Under "Assign classes," opt for either:

"One to the entire transaction" (Ideal if you want to assign a single class to the entire invoice or sales receipt, saving time especially when the products sold fall under a single class.)
"One to each row in transaction" (This adds a class field or column to your forms, allowing for itemized class assignments.)

Save Changes:

Click "Save" followed by "Done."
Tip: If your transactions often involve products from a single class, select "One to the entire transaction" for ease of use.
Step 2: Organize Your Class List
Class Creation:

Design classes that represent various segments of your business. This helps in segmenting and understanding your business transactions.
Note: Aim for simplicity. The more clear-cut your classes, the more straightforward your reports will be.
Step 3: Enable Class Tracking for Payroll
Access Payroll Settings:

Click on the Settings ⚙ icon.
Select "Payroll Settings."

Navigate to Accounting Preferences:

Under "Preferences," choose either "Accounting" or "Preferences" followed by "Accounting Preferences."

Activate Class Tracking for Payroll:

In the "Class Tracking" section, click on "Edit ✎" to activate it.
Decide on your preferred method of class tracking for payroll.

Finalize Settings:

Click "Continue" and then "Done."

Assign Classes to Employees:

You can specify a unique class for each employee or designate a single class for all of them.
After making your selections, click "OK" twice to save your preferences.
Note: If the "Classes" section isn't visible, select a checking account, then choose "Customize."
Integrating QuickBooks with Cryptio.co
Connect Your QuickBooks Account:

Navigate to the Integration section within Cryptio.
Opt for QuickBooks and authenticate using your QuickBooks credentials. Follow the instruction from

this article

.
Cryptio will then retrieve data like your Chart of Accounts, Banks, and Classes from QuickBooks.

Mapping Transactions to Classes:

In Cryptio, go to the Transactions page.

Assign each crypto transaction to its corresponding class in QuickBooks, ensuring accurate categorization.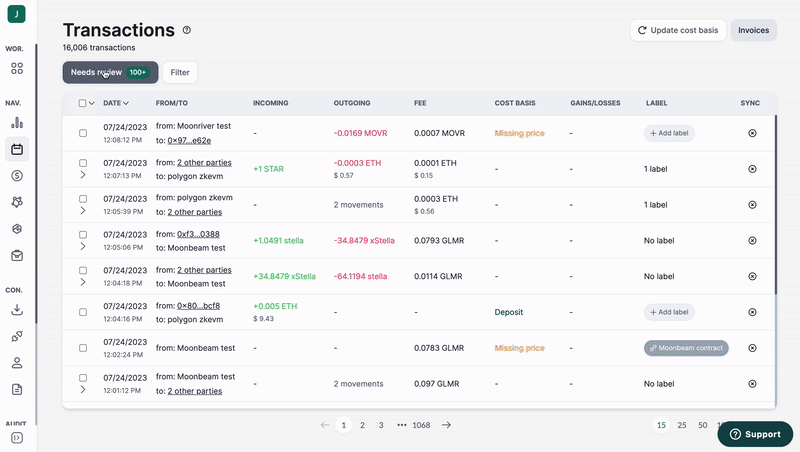 Pushing Transactions from Cryptio to QuickBooks
Choose Transactions:

Head to the Transactions tab in Cryptio.
Pick the transactions you wish to synchronize with QuickBooks.

Classify Transactions:

Before synchronization, ensure every transaction is allocated to the correct class or subsidiary in QuickBooks.
Cryptio's user-friendly design makes this process a breeze.

Synchronize with QuickBooks:

After categorizing all transactions, click the "Push to QuickBooks" button.
Your QuickBooks account will now display the transactions, categorized by class or subsidiary.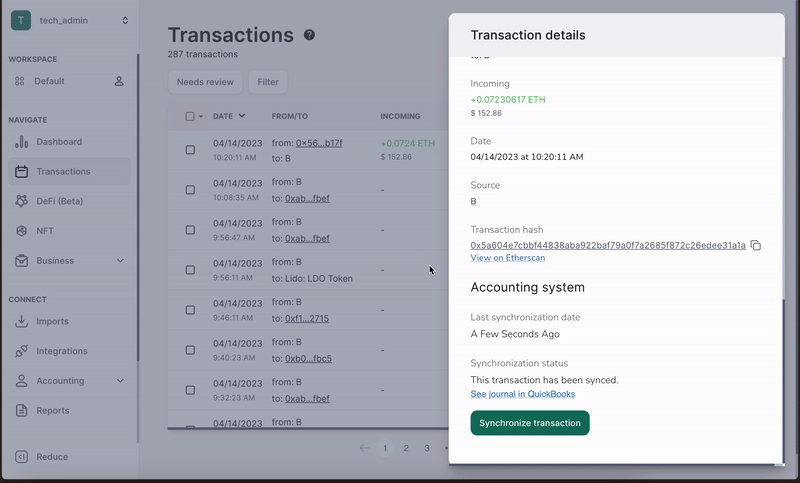 ---
👉 Have a question? Click the ? at the bottom right for more guides, or to send us a message.