Function ID labeling is a potent feature enabling the labeling of numerous transactions. However, the complexity of the function ID flow can pose challenges. Since function names aren't retrieved, constructing a label rule atop Function IDs demands investigation. This module aims to simplify these investigations and label rule creation through Function IDs. Learn how to list Function IDs, understand their nature, and efficiently create label rules.

Why Use the Smart Contract Function Module (SCF Module)?
To set up advanced smart contract-specific labels, you will require function IDs. The Smart Contract Functions Module provides easy access to all the information required in one:
List function IDs within your workspace.
Order by transaction count, with easy access to underlying transactions.
Learn about the nature of a function through explorer examples.
Efficient label rule creation once a Function ID is understood.
Getting Started with the Smart Contract Function ID Module
Follow these steps to efficiently use the Smart Contract Function Module:
1. Access the SCF Module:
Navigate to the Business > Smart Contract Function module within the side navigation bar.
2. Explore Function IDs:
View the organized table listing all Function IDs, sorted by transaction count.
Click on the transaction count to access underlying transactions with the Transaction page.
Copy Function IDs and associated contract addresses for reference.
Access explorer examples to gain insight into the nature of each function.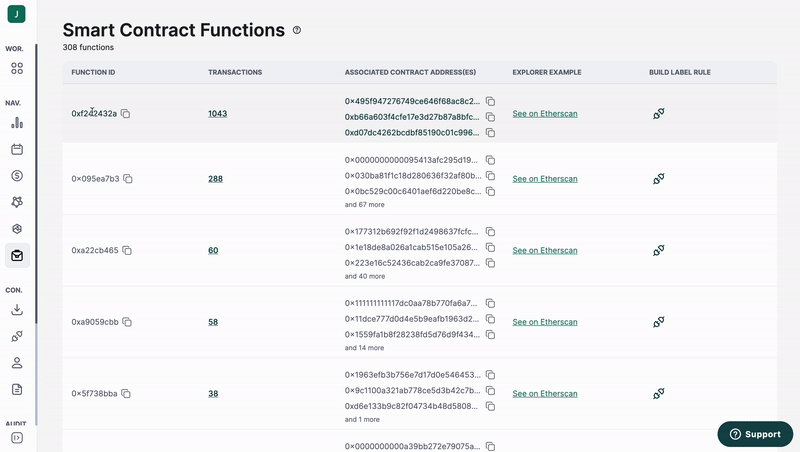 3. Build Label Rules:
If no label rule exists for the Function ID:
If the label rule exists or you want to make any changes:

Click 'See Label Rule' to access the label edition drawer.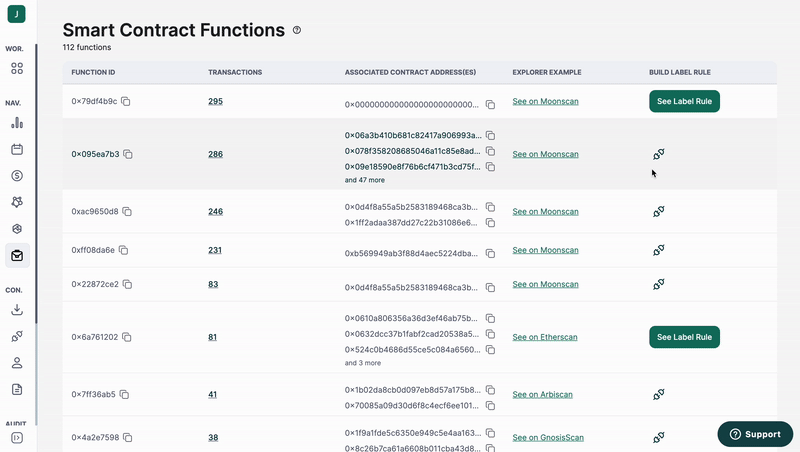 ⚠️ In cases of multiple label rules under one Function ID, the latest created rule is accessible.
The SCF Module streamlines the process of investigating Function IDs and creating label rules. By providing an organized overview and easy access to underlying transactions, it empowers users to make the most of this labeling feature.
---
If you have any questions or need assistance with the SCF Module, our support team is here to guide you in effectively utilizing this module for your digital asset management needs.