The filtered transactions reporting function allows you to generate bespoke reports of specific transactions type/groups. Our reporting suite covers standard accounting, tax, and audit preparation reports so using the filtered transactions report allows you to report on specific transactions that are more particular to your business model.

What is a filtered transaction report?
In the Transactions hub on the Cryptio platform, you can apply different filters to your list of transactions so you only see transactions with specific characteristics. You can apply multiple filters to your list.
You can then generate a report of all these transactions that have been filtered for specific characteristics.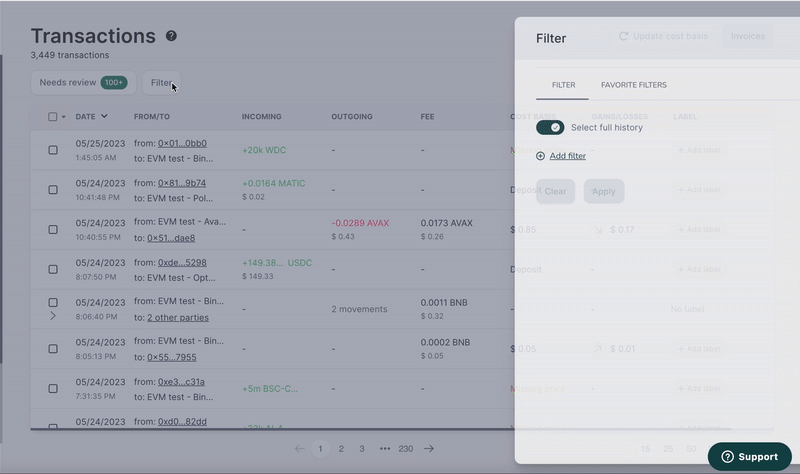 When to use this report
The Filtered transactions report allows you to prepare bespoke reports that are relevant to your business model but might not be contained within our reporting suite.
For example:
DeX, DeX aggregator, Decentralised lending and borrowing, and o-chain asset management could easily track and report revenue
Layer 1 and 2 treasury foundations or corporate treasury could prepare reports on grants and operational expenses and have transparency over your assets
Hedge funds and VC firms could make sure management fees, profit-based incentive fee reporting, and interest reporting are up-to-date.
Metaverse companies, NFT marketplaces, or NFT projects could report on sales and revenue per drop, recurring royalties, service fees, and revenue including listing, minting, private sales, multiple sales charges, and affiliate programs.
Staking companies could review and report on staking rewards.
This function helps you achieve better reconciliation and allows you to produce specific and tailored reporting.
How to generate a filtered transaction report
Head to the Transactions tab.
Click Filter to apply the filters you want.
Press + Add filter to create the filters you need. Add all of the filters you need.
Press Apply.
Select Export filtered transactions in the right-hand corner of the Transactions hub.
Go to Reports.
You can then download your

Filtered transactions report

.