Track all your internal transfer cost basis with this report. For example, as a digital asset broker by recording & sharing your broker-to-broker or broker-to-non-broker transfers this report helps you to stay compliant.
What is an internal transfer report?
Internal transfers are transactions that are executed between the wallets of the same user. Internal Transfers don't have any gains/losses computed as the assets haven't left the owner's treasury. To learn more about internal transfers and non-taxable events, check out this article.
Within Cryptio, internal transfers are automatically detected and users also have the ability to label transactions as internal transfers. In order to help our users track these transactions, the Transfer Statement report can be generated.
This report is an accounting and tax report that can help streamline the month-end process by creating a direct view of non-taxable events.
Generate the Transfer Statement report in a few steps:
Go to the Reports page
Click on the + Report button, and a drawer will emerge
Find module Accounting and Tax reports
Select Transfers Statement
Identify the Asset and Wallets you want to include. The default selection includes all.
Choose the date range or include a complete history
Customize your report by selecting the columns you need.
Select the preferred report format - CSV or xlsx
Click Create
The report will appear on the page and click the download icon under the Action column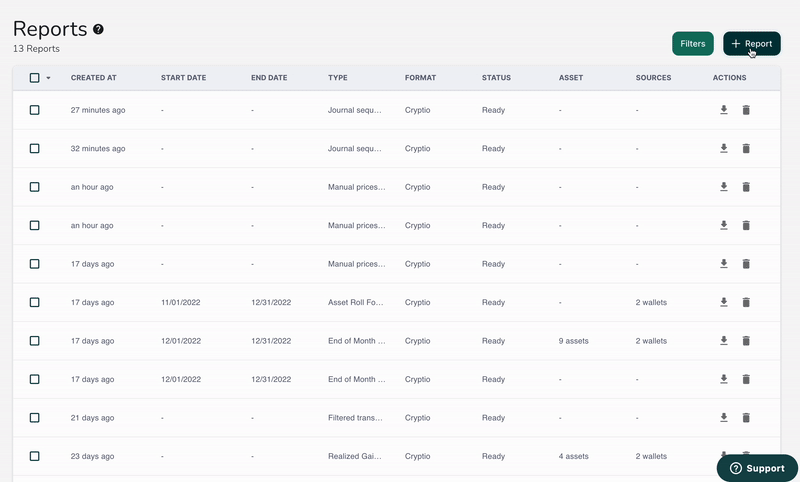 How to read the report
The report has a similar structure to all other Cryptio reports with key information on:
Timestamp
Source
Order type
Incoming, outgoing asset and fee detailed information
What is useful for the user to check are the columns on:
Internal transfer confirmation
Internal transfer cost basis