Export the list of transactions synchronized twice to ERP systems for auditability purposes.
⚠️ This report is only accessible to workspaces with Xero, Quickbooks, and Netsuite integration.

What is a journal sequential numbering report?
In order to make sure accuracy and complete transaction data are pushed to Xero or Quickbooks systems, this report summarises if a transaction is synced more than once. Practically speaking, upon re-syncing a transaction with the accounting systems, the original journal number is replaced with a new journal number and the previous journal number can no longer be traced. This report will show an original journal number and then a new one that reflects the second sync. This sequential numbering needs to be traceable, so the user can use track the numbering changes.
This report will be important for audit purposes and it will help users to justify all journals sequentially and follow the audit trail.
Generate the Journal sequential numbering report in a few simple steps:
Go to the Reports page
Click on the + Report button, and a drawer will emerge
Find module Audit trail & reconciliation reports
Select Manual prices tracker
Identify the Asset and Wallets you want to include. The default selection includes all.
Add or exclude NFT data
Choose the date range or include a complete history
Customize your report by selecting the columns you need.
Click Create
The report will appear on the page and click the download icon under the Action column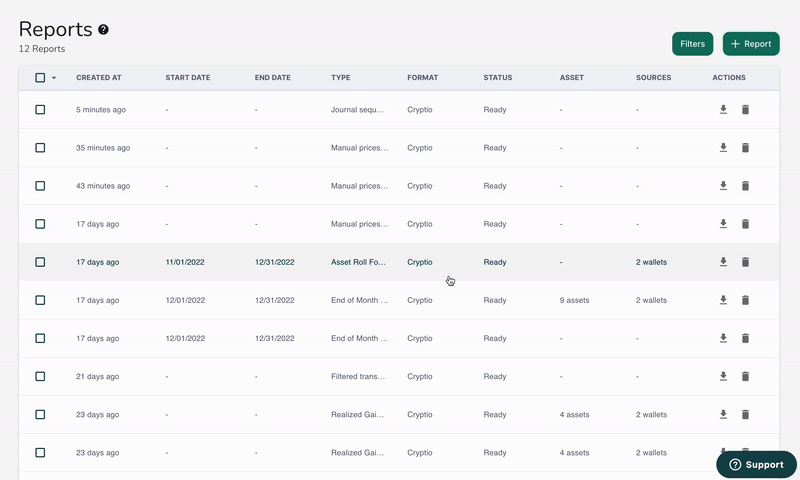 How to read the report
The report provides only the transactions that have been synchronized more than one time. The report structure to all other Cryptio reports with key information on:
Timestamp
Labels
Transaction data, credit, and debit,
Account and source name
Other parties and aliases (contact)
Notes
Transaction ID
What is useful for the user to check are the columns on:
Journal number (Quickbooks only)
Synchronization date
Xero / Qbs / Netsuite Journal ID