What is labeling?
Labeling which can refer to tagging, categorizing, and grouping transactions accurately is key in accounting to help identify the purpose/source of the transaction.
In Cryptio, it is an essential step after you have identified all your contacts. You might create labels for the following reasons:
Account for business expenses and transactions relating to marketing, salaries, product revenue, and internal transfers.
Report on blockchain-related activity like lockup amounts, rewards, burn fees, and miner fees.
DeFi activity such as smart contract execution (receiving LP tokens), swaps on decentralized exchanges, providing liquidity, track rewards, and lending/borrowing.

NFT activity like purchase, airdrop, mint, and transfer.

Track fees such as gas fees, contract fees, etc.
To identify and exclude spam tokens and more.
Global labels and custom labels
When you land on the Labels page, you will see by default All labels. These include Cryptio's pre-made Global labels that are available for all our users. Additionally, you can see My labels which are the custom labels that you have made.
You can choose to see only a specific group of labels, such as Global labels. To do this:
On the Labels page, click on Filters.
Under Filter by label type, open the drop-down menu.
Select Global labels.
Press Save.
You can follow the above steps to see only My labels and All labels.
Global labels look different from your custom labels so that you can distinguish between them easily. Our Global labels have a globe symbol, which is circled in the image below.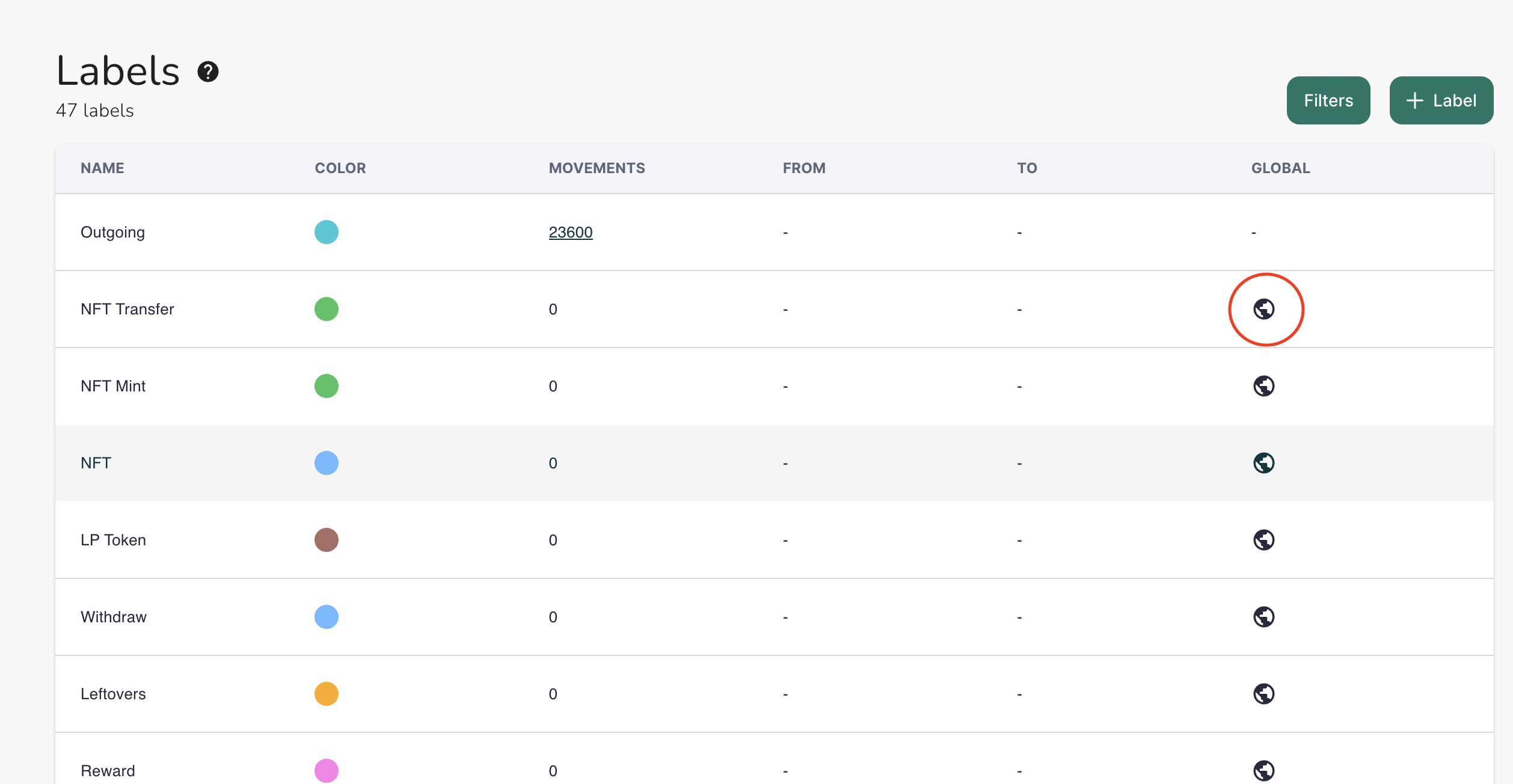 What are global labels?
Global Labels are the most common categories that Cryptio has developed while working with all our customers, such categories include smart contract interactions, internal transfers, and exchange activity (staking, etc.) that are in the transaction history of your imported sources. Cryptio picks up these transactions and auto-labels them for you.
Examples include:
Lending / Borrowing activity on AAVE
Deposits into Curve
Transferring assets from one internal wallet to another.
Swaps on DEXes (Uniswap)
You can use Cryptio's pre-made Global labels when labeling transactions or you can create your own labels on the Labels page. We explain how to do this in the Help Center article on Creating your own labels.