What are P&L Accounts?
Profit and Loss (P&L) accounts, also known as income statement accounts. It reflect a company's financial performance over a specified period of time, such as a month, quarter, or year.
The primary difference between P&L accounts in traditional finance and crypto lies in the types of revenue and expenses being recorded.

How do they differ in the context of Digital Assets?
In traditional finance, revenue typically comes from the sale of goods or services, while expenses include items such as the cost of goods sold, salaries, rent, and utilities.
In contrast, revenue in the crypto world can come from a variety of sources, such as:
trading or staking cryptocurrencies,
mining
selling goods and services for cryptocurrency.
Expenses in the crypto world may include:
hardware and software costs for mining;
transaction fees, and other costs associated with operating in the crypto ecosystem.
Additionally, the volatility of cryptocurrency values can impact the P&L, as changes in the value of cryptocurrencies held as assets or liabilities may result in significant gains or losses.
While the purpose of P&L accounts remains the same in both traditional finance and crypto, the specific revenue and expenses being recorded and their related accounting challenges can be quite different. Within Cryptio P&L is tracked through our labeling feature, allowing each revenue and expense movement to be identified in their Crypto-specific context.
P&L in Cryptio
Labelling
For the guide on how to label your transactions, please consult the Quick Start Guide.
When labels in your Cryptio workspace have been configured, you will be able to identify transactions by these labels indicating revenue and expenses in a crypto-specific context, e.g. as an LP token or a contract fee.
These labels are predominantly applied automatically if it is part of our Global labels. You can find them either as an overview on the Labels page or attached to specific transactions in the Transactions module.
Labels as they appear in the Transactions page:

The Labels page shows an overview of labels in the workspace.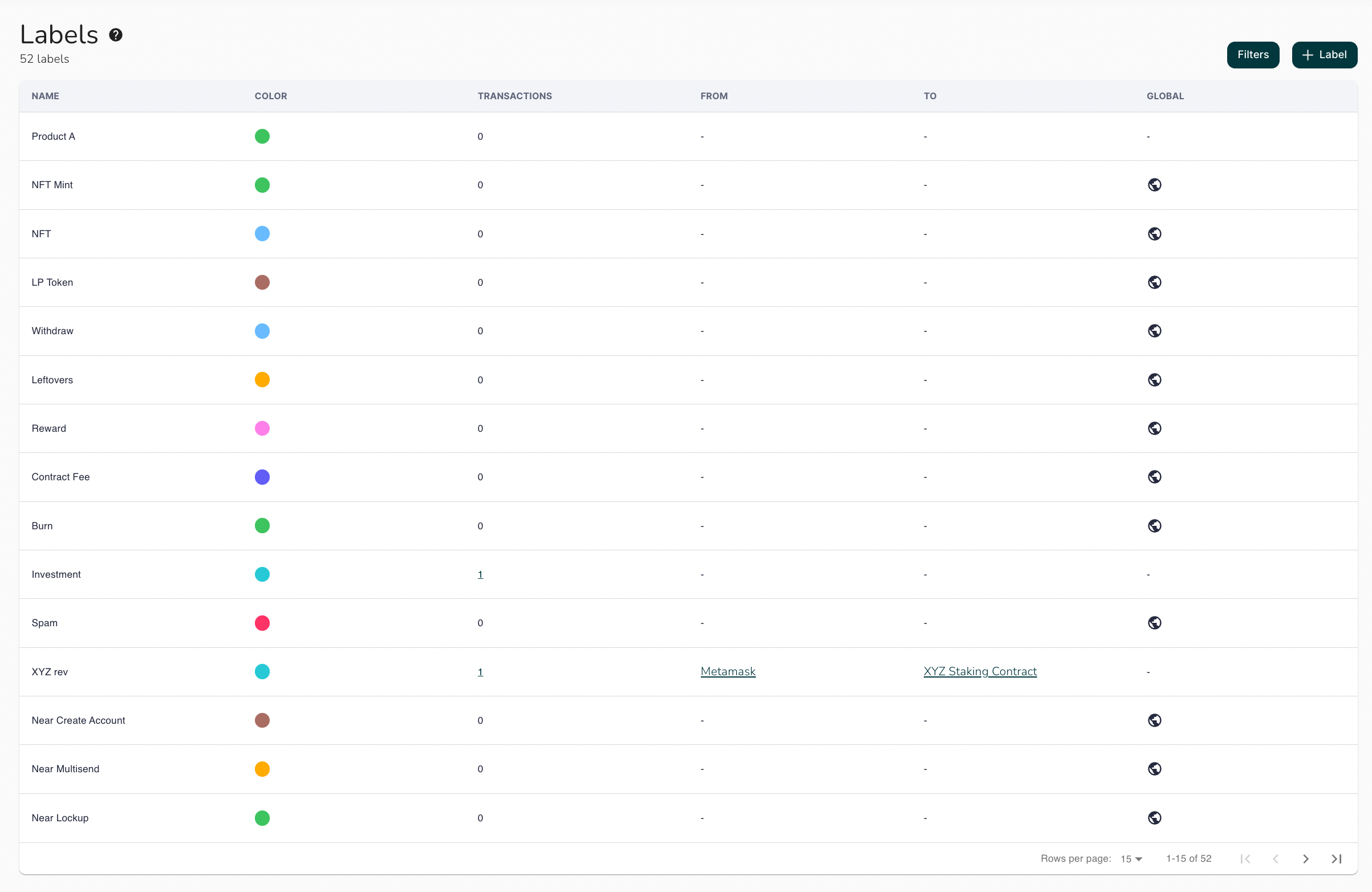 Relevant Reports
Amongst the reports generated by the Cryptio platform information according to the labels configured in the workspace can be viewed.
These reports are listed below with links to their corresponding guide here in the Help Centre: